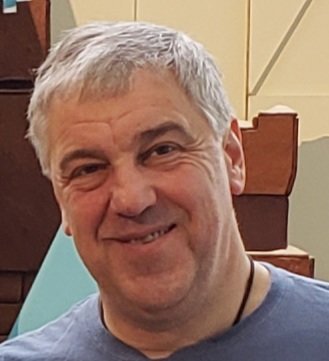 Memorial Visitation at Funeral Home
2:00 pm - 5:00 pm
Wednesday, July 14, 2021
Weigand Bros., Inc. Funeral Home
49 Hillside Ave.
Williston Park, New York, United States
Prayer Service
4:00 pm
Wednesday, July 14, 2021
Weigand Bros., Inc. Funeral Home
49 Hillside Ave.
Williston Park, New York, United States
Memorial Visitation
7:00 pm - 9:00 pm
Wednesday, July 14, 2021
Weigand Bros., Inc. Funeral Home
49 Hillside Ave.
Williston Park, New York, United States


Obituary of Robert G. Wolf
Please share a memory of Robert to include in a keepsake book for family and friends.
Robert G. Wolf "Bert"
To quote Jimi Hendrix, Voodoo Chile (Slight Return) "If I don't meet you no more in this world......Then I'll meet you in the next one.... And don't be late.... Don't be late."

Son, brother, nephew, husband, father, uncle, mortician, and bartender.... these are words that could describe Bert. I'm choosing FRIEND. Bert's heart was always open to anyone and everyone. Bert was raised Christian and believed that if you were his friend, it was for life. So many of our brothers and sisters that I've spoken to these past couple of days repeated the same thing......that they never heard anyone say a bad word about Bert Wolf.

We all met Bert in different stages of his life. Be it Grace Lutheran School, Cub Scouts, 204st football, Fred's Clubhouse, or Herby's Bar everyone had the same thought.... this was a positive force that they wanted in their lives. Bert loved music, especially Jimi Hendrix and Grateful Dead. He was a collector of the classic rock musical generation. Bert loved live shows and kept every ticket stub from all of those concerts. He loved good food especially from his mother-in-law Sandra.

The one person Bert loved most was his wife, Linda. Many of us were lucky enough to have been there when they met at Herby's Bar. Bert said to us that he was going to marry her the first time he met her. I thought that was a bit extreme, but ok. Linda was hesitant to date Bert unless he changed his ways....and changed his ways he did for the better which created the opportunity for their friendship and love to grow. They courted for a few years. Many of us were present when Bert and Linda were married. We saw how much they were in love when we celebrated that very special day. Their love produced two children, Robert and Emily who are the best of both of them.

Bert was always there for his friends. He had a soft spot in his heart when he knew anyone of us were hurting. A great example of this was his LOVE for Sean McKeon. Every time I would come home for a visit it was Bert who would make sure others from our neighborhood would meet at Sean's house. Bert loved Sean and would use that term of affection shortly after his accident. It was the first time that most of us had heard that term used for one friend to another. He also called us brothers before anyone else. He made us a family.

There are so many stories of Bert but the best ones were those told from the lens of his camera which he brought along with him everywhere. The pictures he took were the stories of our lives. He knew how special time was and wanted to capture all of the precious moments. Most of us were lucky enough to remember to tie our shoes, let alone carry a camera. Bert was an old soul and understood

the importance of documenting our journey as friends. Two of his most famous pictures were the 13 Ass***** Upstate and the other of having all of his friends at his wedding together. Bert always had a way of checking up on us at the right time and making sure we were good physically and emotionally. To be honest, sometimes I didn't want to share with Bert....but he would always say to me "Tomorrow will be a better day, love ya brother ".

Bert was a very funny, dry humored guy. He could use the word scumbag as a term of endearment. For example, "The bar is closed....and now you scumbags have to go home......and get there safe'" He was the guy behind the scenes and making sure everything went smoothly, be it at a Halloween party where he supplied real caskets and bones or when he played match maker from behind the bar. When he was asked how work is going his response would be "Work Is Dead".

Bert and Linda loved Disney. For years they would bring Rob and Emily to vacation there. Bert enjoyed these getaways and would beam while sharing their adventures after. In fact, three years ago Bert and Linda celebrated their 25-year anniversary at Disney. A few of us were lucky enough to go down and celebrate with them. Their love was stronger at 25 years than the day they got married.

The strangeness of being at any wake/funeral is that Bert is not here to comfort us. It was Bert that you would call to bury a loved one. It was Bert who helped us bury our friends, our family. He was so professional and comforting to all in the room. He always maintained calmness and if he was rattled never showed it.

Bert was an original and will be mourned for a long time. He will be remembered forever by us as our friend and brother. To misquote a Jerry Garcia song called Ripple "Bert, now that you know the way home.... I hope you will show us the way when our time comes."
Love, MOL
Share Your Memory of
Robert