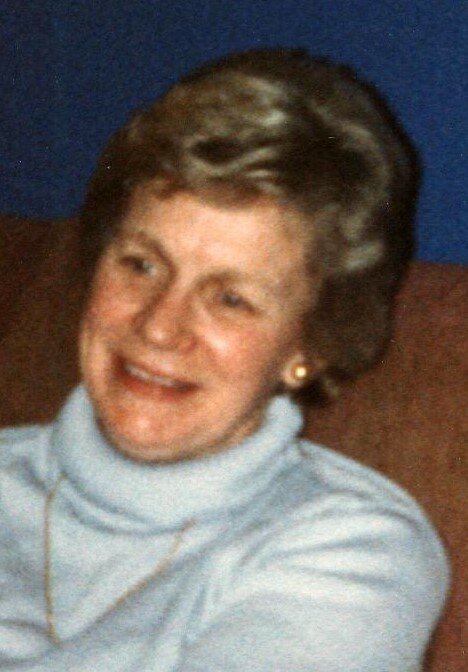 Obituary of Rita M. Doyle
Please share a memory of Rita to include in a keepsake book for family and friends.
Rita Lillian Mulcahy Doyle December 31, 1919 - January 16, 2022

"For those to whom much is given much is required." [Luke 12:48]
Rita Lillian (Mulcahy) Doyle of East Williston, New York passed away January 16, 2022, at the age of 102.

Rita was born in East Longmeadow, Massachusetts on New Year's Eve, 1919 at the height of the Great Influenza Epidemic and moments before the dawn of the Roaring Twenties. She grew up in Thorndike, Massachusetts, and met the love of her life, Paul Francis Doyle in the third grade. They both graduated from Palmer High School in 1937. Rita went on to graduate magna cum laude with a bachelor's degree in English from Our Lady of the Elms College in Chicopee, Massachusetts in 1941. She remained a strong supporter of her alma mater and a board member of her local chapter of the American Association of University Women.

After graduation, Rita worked as a teacher in Sutton, Massachusetts, embracing the role of educator, both formally and informally, for the rest of her life. As World War II intensified, she supported the war effort as a quality control staff member at a defense factory in Bridgeport Connecticut. In 1945, after Paul returned from the war in Europe, the two were married on September 19 and relocated to New York City. Rita and Paul moved into their lifetime home in East Williston in 1953, where they raised six children.

Throughout her life, Rita sought to enrich herself and those around her through education and the arts. She took her children and grandchildren to the opera, the Nutcracker, and countless Broadway shows. At Christmastime, she would take her children and grandchildren into New York City to see the tree at Rockefeller Center, the decorated store windows, and the Radio City Rockettes. Two of her proudest memberships were at the Metropolitan Museum of Art and Barnes and Noble.

Rita loved to travel and took trips around the United States and to Europe and the Holy Land with her husband and family. True to her roots, she loved New England, spending many vacations on the shores of Connecticut, Massachusetts, and Maine, or in the mountains of Vermont, Ithaca, and Virginia. When Rita was away from New York, she was happiest reading aloud from a copy of the New York Times with a Broadway record playing in the background.

Rita believed strongly in service and maintaining an active life in her community. Born before women had the Constitutional right to vote, Rita served as the first woman Trustee of the Village of East Williston for twelve years. After raising her children, Rita returned to education as an assistant to the faculty at Molloy College. At her beloved Saint Aidan's Catholic Church in Williston Park, she was a member of the parish council, lector, and eucharistic minister. She was part of a bridge group in Long Island and particularly enjoyed teaching the game to newcomers. For years, she enjoyed a "girls nights out" with a group of seniors and dressed impeccably into her second century.
Rita was predeceased by her husband, Paul F. Doyle, her parents, Andrew J. and Jane (Beatson) Mulcahy, and step-mother Ann (Shea) Mulcahy, brothers Edward (Bud) Mulcahy, Andrew J. Mulcahy, and Daniel Mulcahy who, with his wife Ann and their family, embraced Rita in the years after her husband Paul passed away. Rita was also predeceased by daughter-in-law Margaret Doyle, and son-in-law, Gary Leroux. She left behind her six children and their partners: Paul F. Doyle and Morag Christie-Churm, Andrew Doyle and Barbara Jean Foster-Doyle, Thomas and Janis Doyle, James and Marianne Doyle, Mary (Liz) Leroux, and Frank and Eileen Doyle; her twelve grandchildren: Christy, Heather, Mike, Casey, Karen, Kelly, Lynn, Drew, Caitlin, Paul, Meghan, and Alejandro; twelve great-grandchildren: Teagan, Daniel, Mason, Saben, Aiden, Latah, Connor, Anna, Jaclyn, Graciela, Brennan, and Andrés; many cherished nieces and nephews; and her dear friends and caregivers.
A Catholic Mass and celebration of Rita's life will be held in the late Spring. She will be buried with her husband Paul in Arlington National Cemetery. Donations in her name can be made to the Church of St. Aidan, 505 Willis Avenue, Williston Park, NY 11596.
Share Your Memory of
Rita