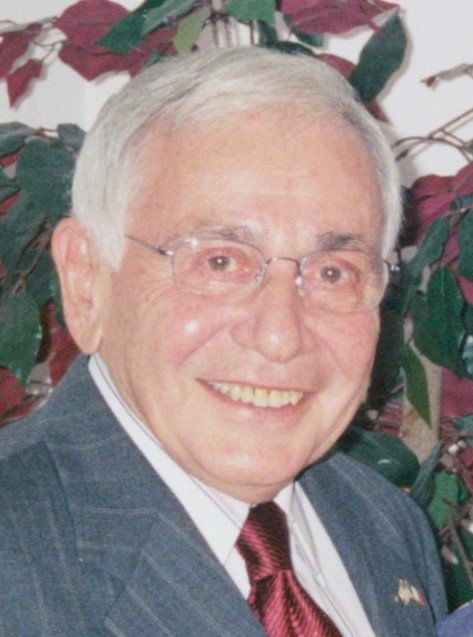 Visitation atFuneral Home
2:00 pm - 4:00 pm
Sunday, April 11, 2021
Weigand Bros., Inc. Funeral Home
49 Hillside Ave.
Williston Park, New York, United States
Visitation
7:00 pm - 9:00 pm
Sunday, April 11, 2021
Weigand Bros., Inc. Funeral Home
49 Hillside Ave.
Williston Park, New York, United States
Final Resting Place
Monday, April 12, 2021
Saint Charles Cemetery
Wellwood Ave.,
Farmingdale, New York, United States
Mass
11:15 am
Monday, April 12, 2021
Saint Aidan's R.C. Church
505 Willis Ave.,
Williston Park, New York, United States


Obituary of Vito G. Cutrone
Vito G. Cutrone
December 4, 1923 ~ April 7, 2021
Born in 1923, Vito Cutrone was the oldest of three boys who grew up in Astoria, Queens to Italian-American immigrants. He was a part of the greatest generation and his life was nothing less than extraordinary, seemingly pulled right out of a history book or a Hollywood screen.
Vito was the epitome of the American Dream. He and his family were close-knit and spent their days attending school and working for the family business. They wanted to assimilate to the American way of life and did all they could to show pride in their new country while honoring the values and traditions of their Italian heritage. Vito was a loyal man to both church and country. He met the love of his life, Antionette prior to being drafted into World War II, so they had to put their future plans on hold. Reluctant to leave his family and new love, at 19-years-old he completed basic training and was initiated into the 550th Anti-Aircraft Battalion in the US Army. His unit left from Cape Cod and was stationed in Wales. When his first assignment was delivered, he sailed the English Channel from Wales to Normandy, to fight in the battle of Normandy on Day 6 of that campaign. What he must have seen that day and over the next two years from the Battle of the Bulge and seeing concentration camps, to being stationed all over Europe must have been terrible, but you'd never know it. He wasn't a man hardened or damaged by the war. He never boasted or bragged. He did his duty, anxiously counting the days until he could be with the pretty girl he met and fell in love with on a city bus.
Vito received many medals during his tour of duty and at one point he almost didn't make it due to a jeep accident that left a permanent scar and reminder along the side of his nose and neck. Eventually, the war ended and he was honorably discharged from the Army. When he came home and married his sweetheart, Antoinette, that's where his story truly began.
Shortly after getting married, God graced Vito and Ann with two children, Gene and Carol. He found a good job and success in working for Caltex Oil Company, which allowed him to travel the country and world from Texas and California to South Africa and Lebanon. He even moved his family to Italy for a few years to take a foreign assignment. During this busy time, Vito also put himself through college, always striving to do well to take care of his family. He moved to Dallas to finish his career with the only company he ever worked for, but moved back home to New York shortly after to retire so he could be with the family he cherished and meant so much to him.
Vito had five grandchildren and four great-grandchildren who would tell you growing up with him was more like having a best friend than a grandfather. He'd teach you how to say the alphabet or how to play the trumpet even though he didn't know how to play himself. He'd stop eating his breakfast to play doctor or let you stay up late to watch TV shows with you at night. He was at every momentous occasion, whether it was a baptism, graduation or wedding. He was so proud of his family and what they had accomplished.
His birth certificate may have read Vito, but he had a different name depending on what circle he was in. It was amazing how many friends he had. He would go by "Bill" to the guys at the bowling alley and "Will" or "Willy" with his childhood friends. Whatever name you knew him by, you knew he was the most happy-go-lucky guy in any room. In his younger years, you would always find him with a scotch in one hand and a cigar in the other. He and my grandma always had an open door policy in their house where a hot meal was always on the table and a drink was always offered to those who would visit. My siblings and I definitely adopted this way of life as our house was always full of friends and another pound of pasta was always ready to be cooked. Friends were family, and family were friends in his eyes.
He enjoyed a long retirement where he spent a lot of time in his workshop and there wasn't a thing around the house he couldn't fix. He played golf, bowled, and was a proud member of the Knights of Columbus. He also volunteered his time to St. Aidan's church as a Eucharistic Minister. I believe his greatest joy and role he played was father and grandfather. He enjoyed each day the fullest.
As he got older he would often say, "I'm not much longer for this world," but somehow we knew that just wasn't true. It wasn't his time. My mother affectionately referred to him as "the cat" as he seemed to have 9 lives. Thankfully, his bull-like stubbornness and devout faith in God kept him around longer than any of us would have imagined.
He was a true hero in everyone's eyes. He's the reason we all have pride in our country and cherish one another so strongly. The memories and experiences we had with him will last forever.
If you asked him, "What's the key to life?" he would tell you that nothing is more important than family. His longevity of 97 wonderful years is due to the family he kept around him. He truly lived. He didn't want to leave the rest of us when the love of his life did, and we're sure she told him she'd wait for him, just like she did when he went off to the war so many years ago. Eventually she said enough is enough. It was a long two years, 10 months and 29 days apart, but they're finally together again. We like to believe that she came to help bring him home, and now, they're two angels soaring above the sky forever watching over us.
Vito Cutrone will never be forgotten. We will carry his memory with us forever.
~Vanessa Costa & Nick Canner
Share Your Memory of
Vito