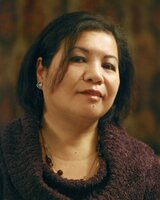 Maria Divina Cueto Violago
Our beloved mama, Maria Diviña Cueto Violago, sadly passed away on 31 July 2022, at the age of 68, after a courageous battle with cancer. She was a fun, warm, loving mother who was always there when we needed her. She was always supportive of everything we've ever done. She raised her sons in a cheerful, comfortable home. She was selfless and easygoing. She was well loved among her friends and family members.

The simplest pleasures in life brought her great happiness. She loved spending time in the kitchen. She enjoyed bringing joy to others through her delicious meals. She was an adventurous foodie as well, but not a big fan of cumin. As a musician herself, she loved music. She adored James Taylor and Carole King.

She is survived by her sons Michael Lesley and John Patrick, her daughters-in-law Sheryl and Judith, and her granddaughter Jules.