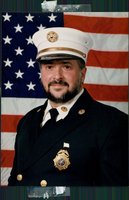 Harry S. Fleischer
Fleischer, Harry S., Ex Chief of the Williston Park Fire Department,
Died peacefully on March 1,2018 at the age of 70. Survived by his beloved
Wife, Loretta, Four children, 14 grandchildren, One great granddaughter.
Brother Stephen and Toni Marie (wife) and Nephew Stephen.
Harry was a lifelong resident of Williston Park and well respected for
his community service. In addition to working for the US Department of
Defense for over 30 years, He served in the Fire department for 48 years,
including serving as President of Company No. 3 for over 25 years and Chief
in 1979/80. Reposing at Weigand's Funeral Home on Tuesday March 6, 2018
2-4/7-9. Funeral Mass at St Aidan's Church on Wednesday at 11:15am.