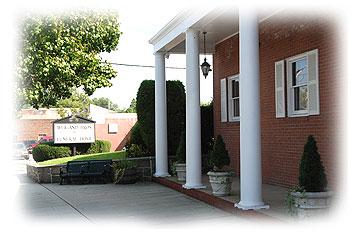 Welcome
Weigand Bros funeral Home was founded in 1949 by John, Edward and William Weigand (brothers). After the death of John Weigand, his son, John H. Weigand became a partner in the business. John H. Weigand became president and served until his death in 1996. Christopher J. Joyce and Robert G. Wolf, licensed funeral directors, continue to serve the community.

The funeral home was founded on the belief that funeral arrangements entrusted to us are sacred and carried forth in a dignified manner. We are here to give hope and comfort to those in need at a time of loss. We are available to our families at all times throughout the service as well as after.
We offer a wide array of services that cater to all customs and religions as well as providing personal distinctive funeral services in a warm atmosphere of kindness and concern. Weigand Brothers Funeral Home stands apart from all the large funeral home conglomerates by being an independent family owned and operated funeral home. This allows us to provide a personal dignified relationship to those families we serve.